The All-In To Go All-Out Drags At Sturgis
The BAKER All-in to go All-out Drag races were a great time! Check out some photos below to see all the ruckus that went down.
No Labor On Labor Day

We want to take a second to thank the American worker for what they've built. BAKER Drivetrain will be closed September 2nd, 2019 for Labor Day. We will resume normal business hours (8AM-6PM EST) on September 3rd. As always, our webstore will be available 24/7.
Have a question?
See if the answer is on our FAQ page: 
Need further assistance?
Contact us through the following options and we'll be in contact when we get back:
Biker Boy Drama
600 words/ 4 minute read
I had a case of the ol' jet-lag due to travelling back 36 hours+ from the other hemisphere and then returning hours just before the Apocalypse Run that departs from just outside Grand Rapids, MI. We rode choppers all day in unnatural heat and humidity, northbound, to arrive upon a hapless, vacuous town called Strong located in Michigan's Upper Peninsula. Party time commenced, but tired, hot and messy; dudes were dropping like flies. That night the jet-lag had me up at 4am walking around alone and aimlessly in the dark looking for food/water, when two Indiana dudes approached me thinking I was a thief. They saw I wasn't, and so we hung and chatted for a bit. In our chats one of them described his BAKER-equipped bike so I had a good picture in my head of it. Then we parted ways into the wee hours.
Still awake at 6am sitting on the motel porch for 10 minutes I listened to the sound of desperate kick-starting around the corner. Bored, I finally got up to see if I could help. I walked up to some fresh 21-year-old panting profusely, speaking in tongues and sweating in despair.  I felt suspicious of him and asked where he was from. I heard "Mt. Pleasant" which is consistent with a quick conversation I had with him earlier in the night. I asked if I could help his state of health and he barely murmured out the word "water" as he was slowly losing consciousness. So, I discretely grounded the magneto and disconnected the spark plug wires to create a puzzle for him if he awoke, then I ventured off back to my digs to get some hydration for him. Meanwhile, I'm still questioning myself if the bike being started was his or not. The bike I saw matched how the initial Indiana dude's bike was described to me.
I came back with water. The Mount Pleasant kid was passed out, melted on the bike in a very awkward position (see photo). I checked his pulse and sat on the curb for 15-30 minutes making sure he didn't die. I also caught sight the Indiana plate on the chopper. Eventually I figured I would wander around and seek any other awake human to help me confirm the kid's relationship to this motorcycle. 
When I returned about 15 minutes later, he was attempting to start somebody else's motorcycle. I knew the owner of that one and finally told the thief to get off it and scoot along. I scuffled him along to what I believed was actually his stock orange 883 because I remember his goofy school-style backpack bag that he wore during the ride which was lingering with the said Sportster when we got there. Well, let's just say that this was the bike he rode in on.
He clumsily mounted the Sporty and took off, but I felt guilty for letting that happen just in case that actually wasn't his bike either so I tried to pursue him, but my kick start chopper was far away and so he got a 5 minutes head start. I was just hoping I would catch him at the nearest gas station, given there are so few out there and another hour to the next. No luck, the goofball was long gone. But he did give me the opportunity to snag a few funny pictures to share with the world:
 I hope you enjoyed! I did. ~Scout
P.S. Ganking another person's chopper isn't cool.
BAKER Burnout Drags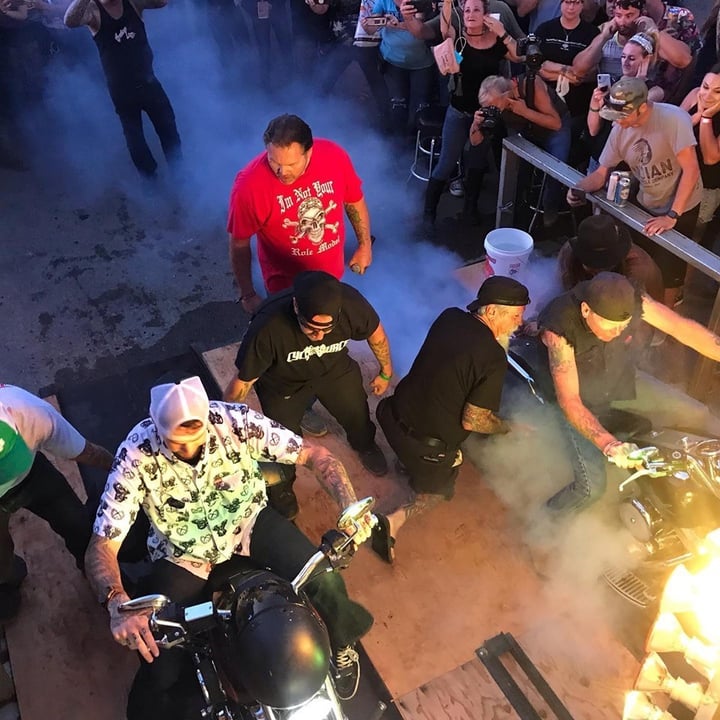 The BAKER Burnout Drags were a hit at the Iron Horse Saloon. To read more about the event, check out Cycle Source Magazine's coverage. Stay tuned with these guys: