Factory 6-Speed Tapered Roller Bearing Kit is now available!
Heal your Achilles heel with the BAKER Factory 6-Speed Tapered Roller Bearing Kit for 2007-up Big Twins! The Factory 6-Speed Tapered Roller Bearing Kit is your fix for failing factory main drive gear bearings. We developed the Double Tapered Main Drive Gear Roller Bearing for the new GrudgeBox. When word of this got out, we were hounded incessantly by those who were having issues with their problematic stock main drive gear bearing.

High performance engine builders and BAKER engineers have known for years that the tapered roller "Timkens" on the left side of the engine are indestructible. This fact inspired us to develop the double tapered roller bearing system for our new GrudgeBox and is available now for Stock Cruise Drive 6-speeds.
BAKER B-Notes Rewards Program
We've officially launched our BAKER B-Notes Rewards program. Once you sign up*, this program will give you points for every online purchase. The points can be turned into BAKER B-Notes. These BAKER B-Notes can be used just like a cash on future purchases.

Want more points? The B-Notes program rewards points for...
Being a member of our site (200 points already applied to your account)
Sharing our site to your friends with Facebook/Twitter accounts if you've got them (50 points each)
Making a purchase (1 point per each US dollar spent with us)
*No purchase necessary. This is a free points program.


South Side Motorcycle Co.
Location: Orlando Park, IL
Web: www.sscycle.net
Phone: 708-361-0942
Email: sscycle@comcast.net
Q: How long have you been in business?
A: Starting our 20th year.

Q: What is your specialty?
A: Any H.D. model

Q: What bikes do you own/ride?
A: 2004 Road Glide, various customs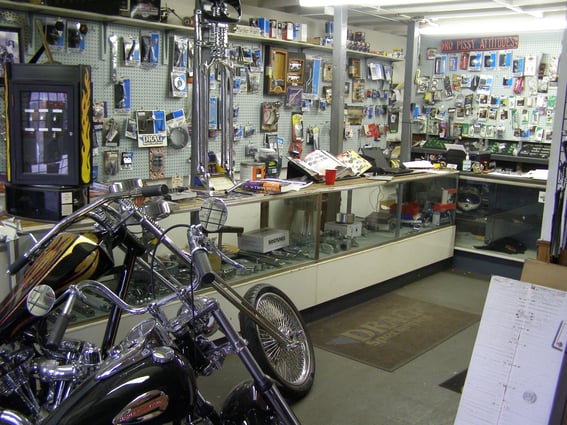 Q: What are your favorite BAKER products?
A: 7-speed trans

Q: What is your favorite bike your shop has built with a BAKER product in it?
A: 1978 FL with a Baker 6-into-4 Kicker cover with ball and ramp clutch release

Q: Do you have any interesting or funny BAKER related stories?
A: Bert and Mark stopped by the shop at night when we were closed and plastered the door and windows with Baker stickers and tape. I could not open the door until i removed them stickers.
Q: Any cool news about your shop?
A: We have always tried to remain humble, not talk about others and help everyone else out.

Q: Do you host any events? If so, what is the biggest or most important event?
A: Yes, Cyclerama which is Chicago's largest indoor custom and vintage motorcycle show. This year it is March 9th thru the 11th.

Q: What does American made mean to you?
A: Pride in a quality product. The motorcycle industry is the only industry that a part can be marketed that does not have to work or fit and people will still buy it.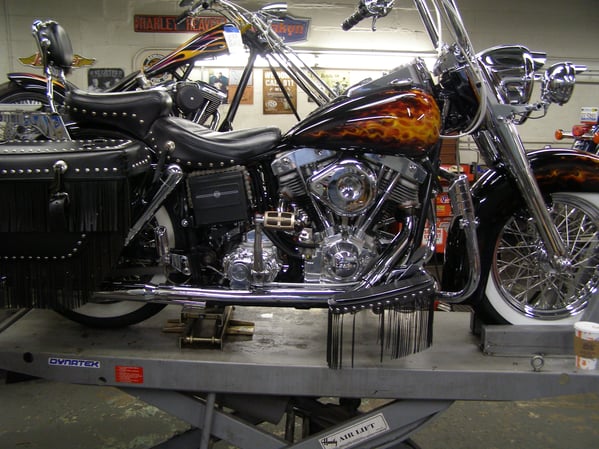 The BAKER Gearhead Class #2 is all about adjusting your clutch properly. Lurkin' Lerg gives you the run through.
Holiday closing schedule: December 23rd, 2017 to January 1st, 2018 our doors will be closed but of course the website will be wide open. If you haven't already, check out our website at www.bakerdrivetrain.com. Have a happy holiday season!
 

Like My Bike Contest

Show off your bike and the BAKER Drivetrain products you're using in our Like My Bike Contest.The bi-monthly winner will receive a free shirt! 

The BAKER B-Note Rewards Program

Want your BAKER product installed by the BAKER crew themselves? We'll be doing installs at Daytona Bike Week 2018. 

Find Us Here!

As the drivetrain authority, we want to provide everyone with all the tools to achieve their optimum performance.

RPM Calculator

Speed Calculator