Heavy Duty Throwout Bearing Kit
Tired of replacing that stock throwout bearing? Grab the BAKER Heavy Duty Throwout Bearing Kit which features a larger thrust bearing with a 97% greater surface area and 77% greater static load capacity than the stock bearing. This kit will fit 1987 and later applications.
 
Deadwood Custom Cycles
Deadwood, SD
Phone: 605-717-2492
Email: Jason@DeadwoodCustomCycles.com
Web: https://deadwoodcustomcycles.com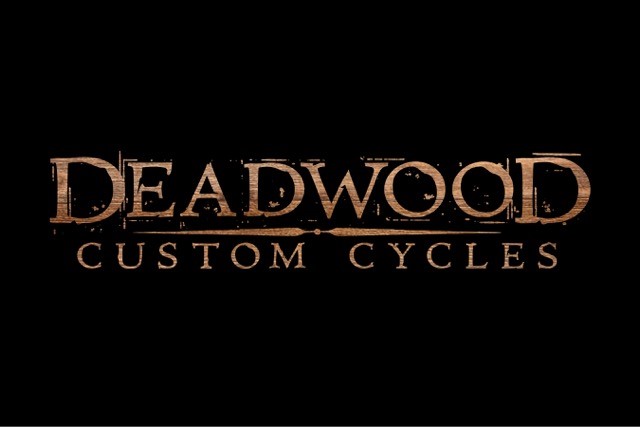 Q: How long have you been in business?
A: Over 15 years. Opened this shop in the new location in May of 2018, and it's been incredible.
Q: What is your specialty?
A: Harleys and Harley based customs. If it has 'HD' on the gas tank, then we work on it.
Q: What bikes do you own/ride?
A: 1979 FLH (with a Baker 6-into-4), a 2001 Fatboy (with a BAKER DD6), 1999 Road King (with a Shovelhead motor/FXR Transmission), a couple frame up full custom bikes.
Q: What are your favorite BAKER products?
A: I love them all! But probably my absolute favorite is the DD6 or OD6. I love being able to take an older bike and upgrade it using them.  I love the feedback from the customer after they leave the shop on the first ride with 6 gears in their bike.
Q: What is your favorite bike your shop has built with a BAKER product in it?
A: We did a frame up Softail that was meant to resemble a 1948 Panhead.  It was the first Baker      6-into-4 with a splined main shaft.  It also had a Baker Clutch, TTP (Tin Type Primary) and stash tube.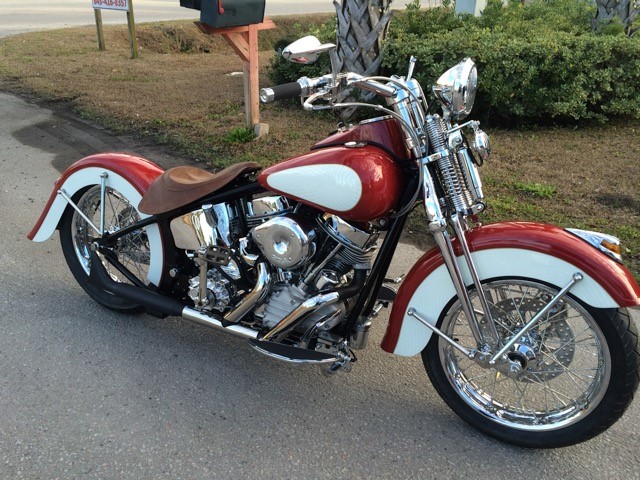 Q: Do you have any interesting or funny BAKER related stories?
A: Every story related to Bert is a funny one!  But my favorite is when one year in Sturgis, I went to the Baker Booth and picked up Bert and James to go out to some private Drag Races.  We just had so much fun on the ride out there, I really enjoyed riding handlebar to handlebar with Bert, and then once we got to the Drags, Bert was like a little kid in a candy store.  The look on his face was priceless, he was in heaven!
Q: Any cool news about your shop?
A: We just opened our own in-house Bar, called "The Gallows Tavern", serving beer and South Dakota Wine. Outside seating is also available. We are trying to create a destination for motorcyclists in our little historic town of Deadwood. In the shop, we are just gearing up to handle the folks coming to the 78th Annual Sturgis Rally!
Q: Do you host any events? If so, what is the biggest or most important event?
A: Of course the Sturgis Rally every year up here is our Super Bowl.  It's chaos, but we love it.  This will be our first year in the new location.
Q: What does American made mean to you?
 A: Seriously?! It means EVERYTHING. As a veteran and a patriot, I love this country. American Craftsmanship is second to none in my opinion. Keep our people working, building, and creating.  'MERICA! 

Use Your Head and Wrench Right
Check out Lurkin' Lerg while he valiantly performs for you an easy N1 Shift Drum installation for 5-speed applications.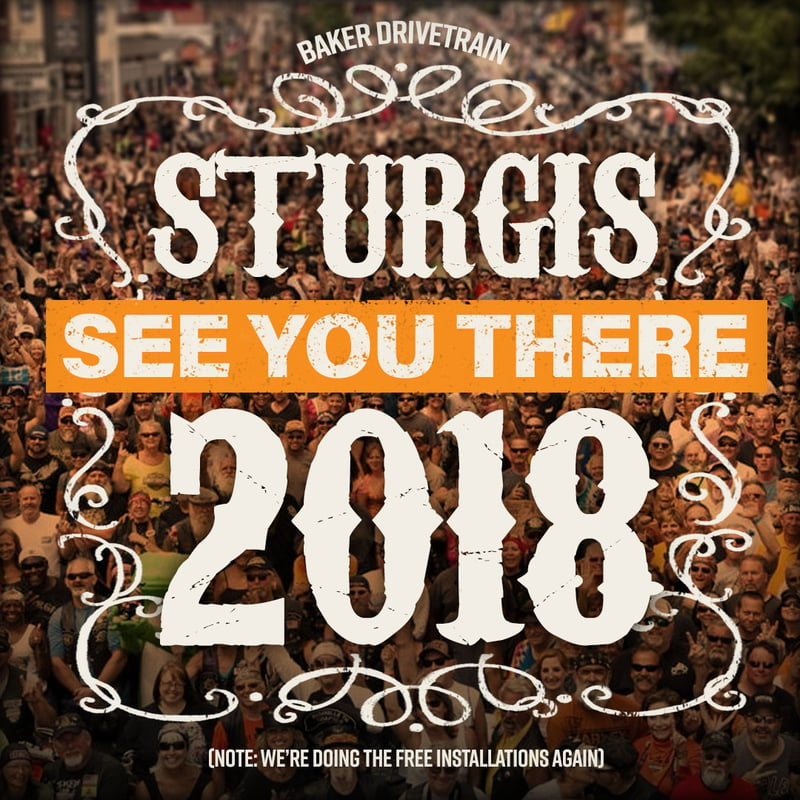 Sturgis Motorcycle Rally 2018
Come check us out at the Sturgis Motorcycle Rally at Black Hills H-D in Rapid City,SD from       August 1-11, 2018. 
Want more information on the Sturgis Motorcycle Rally and the FREE BAKER installs*?
Want to find us on the road?
Take a look at our Events Calendar to see if we're coming to an event near you.
*Free labor for the GrudgeBox, OD6, DD6, and DD7 gearsets.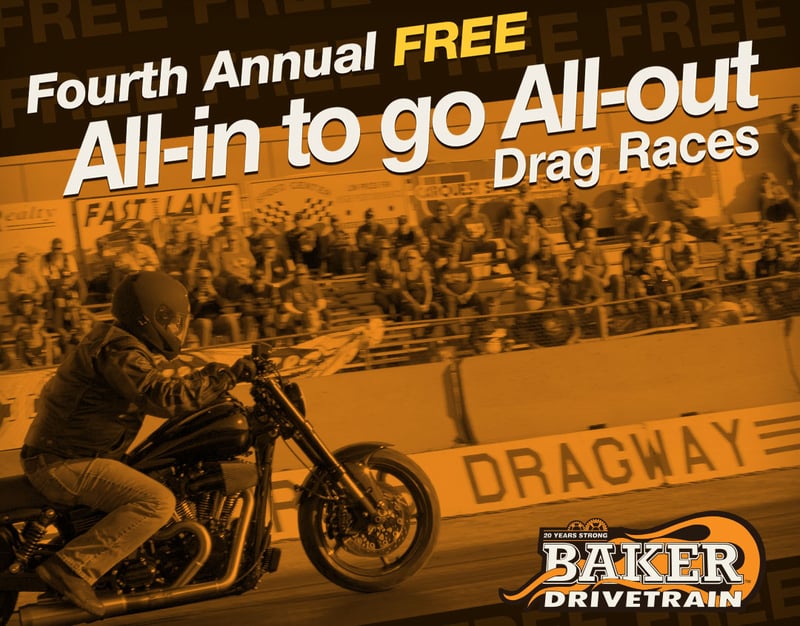 Yesterday's Free Drag Racing at the Sturgis Dragway
The 4th Annual BAKER "All-in to go All-out" Free Drag Race event during Sturgis Bike Week was back and a hit! FOR FREE, no strings attached riders just rolled right in with any form of bike and tore up the track. This was the best year yet for this. When else does one get to legally hammer down like this? These are the bikers that made the the most of bike week! There were nitro bikes, top fuel drag bikes, mopeds, some golf carts, and even some reverse racers! Stay tuned to our Facebook page for pics.